International Law Day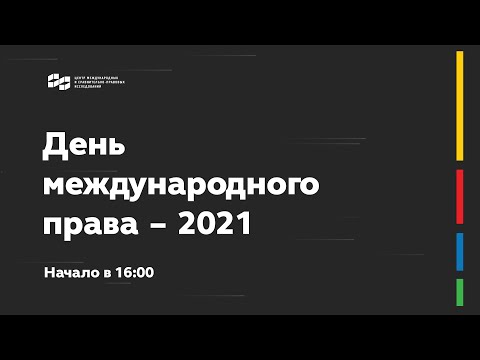 Video
International Law Day. . . Jun 25, 2021
On June 25, the International and Comparative Law Research Center conducted the annual International Law Day. Due to the ongoing COVID-19 pandemic, the event was held online.
In her opening speech, the Center's General Director,
Ekaterina Salugina-Sorokovaya
, welcomed the audience and participants and spoke about some of the results of the Center's work over the past year. She noted the Center's active participation in three UNCITRAL Working Groups as an independent observer and the expansion of partner contacts with a number of universities and expert organizations, among which there are the National Research University Higher School of Economics, the WTO Expertise Center, and Yaroslav-the-Wise Novgorod State University.
Ekaterina Salugina-Sorokovaya spoke about the project "Digest of Russian Practice in International Law", in which the Center cooperates with universities and expert organizations throughout Russia. She also announced that this year, the Summer School on Public International Law will be held in an online format due to the current epidemiological situation.
After that,
Roman Kolodkin
, Judge of the International Tribunal for the Law of the Sea and Center's Advisor on Public International Law, delivered a lecture "Regulatory Proposals of the International Tribunal for the Law of the Sea", followed by a discussion of the questions asked by the audience.
The second part of the event was dedicated to the seventh annual International Law in the XXI Century Award for the best research paper on public international law. This year, the Council of the Award decided to mark outstanding works rather than choosing the winners.
The authors of the outstanding works were announced by the Chair of the Award,
Natalia Sokolova
:
Sofya Pimenova (Interim measures in the practice of the International Court of Justice)
Olga Starshinova (Is the MPIA a Real Practical Solution to Overcome the WTO Appellate Body Crisis?)
Marina Mayer (The 'Journey' of Rehabilitation in International Criminal Law and Beyond: From Sentencing Goal to Precondition for Reconciliation)
Kseniia Soloveva (Exceptio inadimplenti contractus in International Law: Dead or Alive? The Status of the Exception in Contemporary International Law)
Tigran Oganesian (Personal dignity and carriages: conditions of transportation of prisoners in Russian literature and in the positions of the European Court of Human Rights).
Thank you, your data is accepted!